21 Nov

Spotlight on: Susgrainable

In support of the Metro Vancouver Food Recovery Network, this spotlight series shines a light on businesses in the region that are finding innovative ways to upcycle surplus food – turning food that would have previously been discarded into a whole new product, and creating new value in the process.

Have you ever considered how much waste is generated from the beer-brewing process? For every gallon of beer produced, around 1.7 pounds of wet spent grain is left behind. If Canadians drink around 22.5 million hectolitres of beer per year – that is 458,336 tonnes of spent grains being generated and, traditionally, thrown away. That is, until Vancouver-start up Susgrainable found a brilliant new use for it.

We sat down with Susgrainable CEO Marc Wandler, to learn more…
What is Susgrainable's mission?
MW: We fight food waste by upcycling the byproducts from the beer-making process into baking ingredients and products.

How does it work?
MW: To make beer, breweries steep the malted barley grains in water to extract its sugars, leaving behind a wet oatmeal-type mixture that is rich in fibre, protein, and minerals. We take that nutrient-rich leftover mixture, and dehydrate it (to reduce its moisture rating from 70% to about 5%), so it's shelf stable. We then mill it and use it to create our line of products, including flour, baking mixes, and baked treats. It's using up spent grains that would otherwise be thrown away, while creating a high-fibre, low-sugar ingredient for people to eat.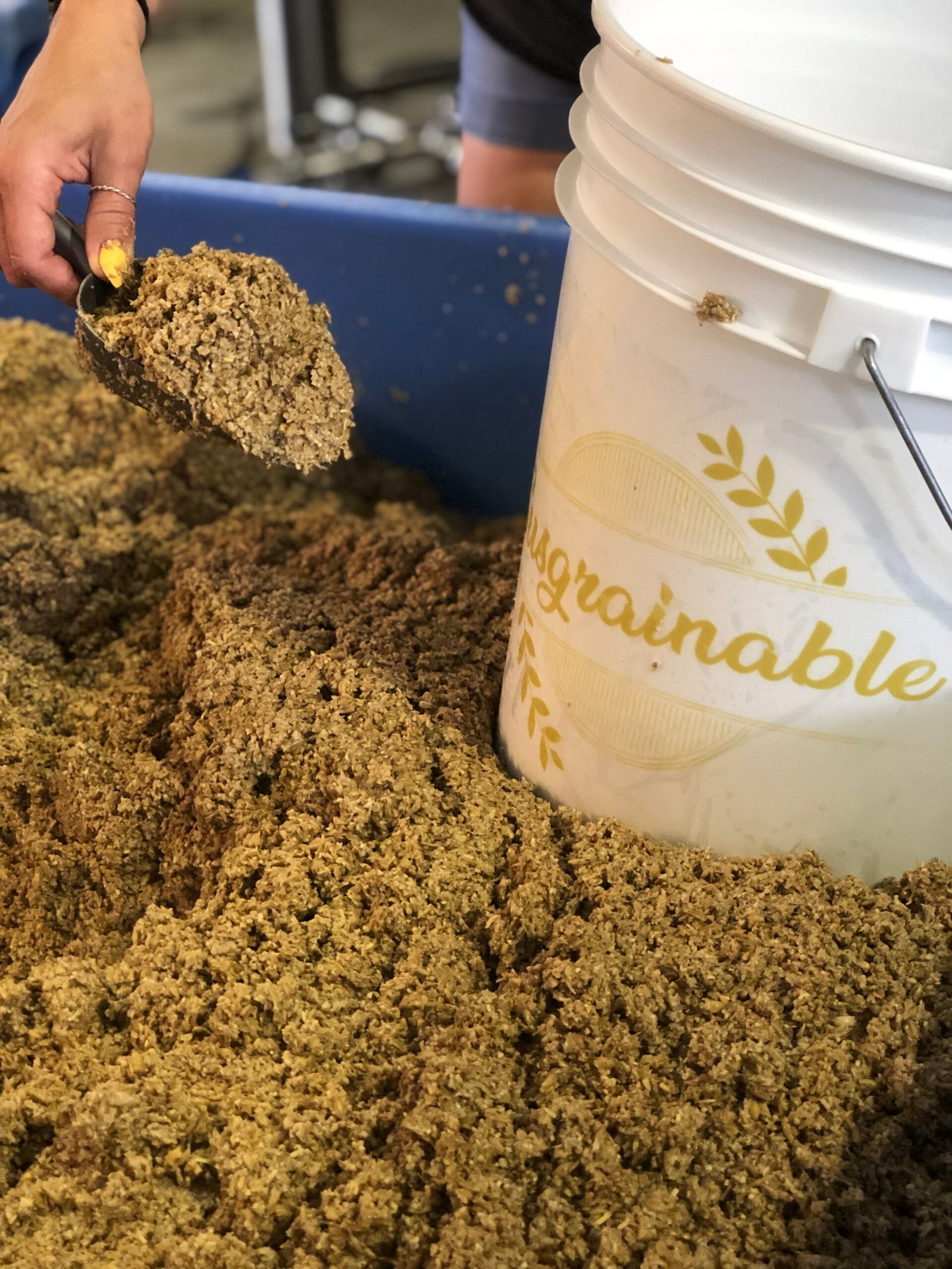 How did the idea for Susgrainable come about?
MW: I am from the healthcare industry originally, where I was focused on childhood obesity and then diabetic populations. I worked hand in hand with dietitians and learned that we're all eating far too much sugar in our diets, and nowhere near enough fibre. If Canadians carry on the way they are going, then 60% of us will develop type two diabetes in our lifetime. 
Back in 2018, while I was working on my MBA, I had a colleague who came from the beer industry, who told me about the large volumes of byproduct being created and thrown away during the brewing process that is both rich in fibre and low in sugar – exactly the kind of food that my clients needed to be eating. So we asked ourselves, what could we do with this healthy part of the grain? Can we make something tasty out of it that people would want to eat? We tackled these questions as part of a student project – to build out a core ingredient that fights food waste and low-fibre diets. As I like to say, we have been throwing away the healthier half of the grain for far too long! And that's how Susgrainable was born.
Where are you sourcing your spent grain from?
MW: We have partnered with craft breweries in the Lower Mainland – 5 in total (with 14 having inquired about collaborating with us) – including Faculty Brewing (our first) and  Parkside Brewery.
Since waste disposal costs have gone up, having us utilize their spent grain is a great way for them to not only reduce their food waste but also keep their waste disposal costs down. It's a win-win!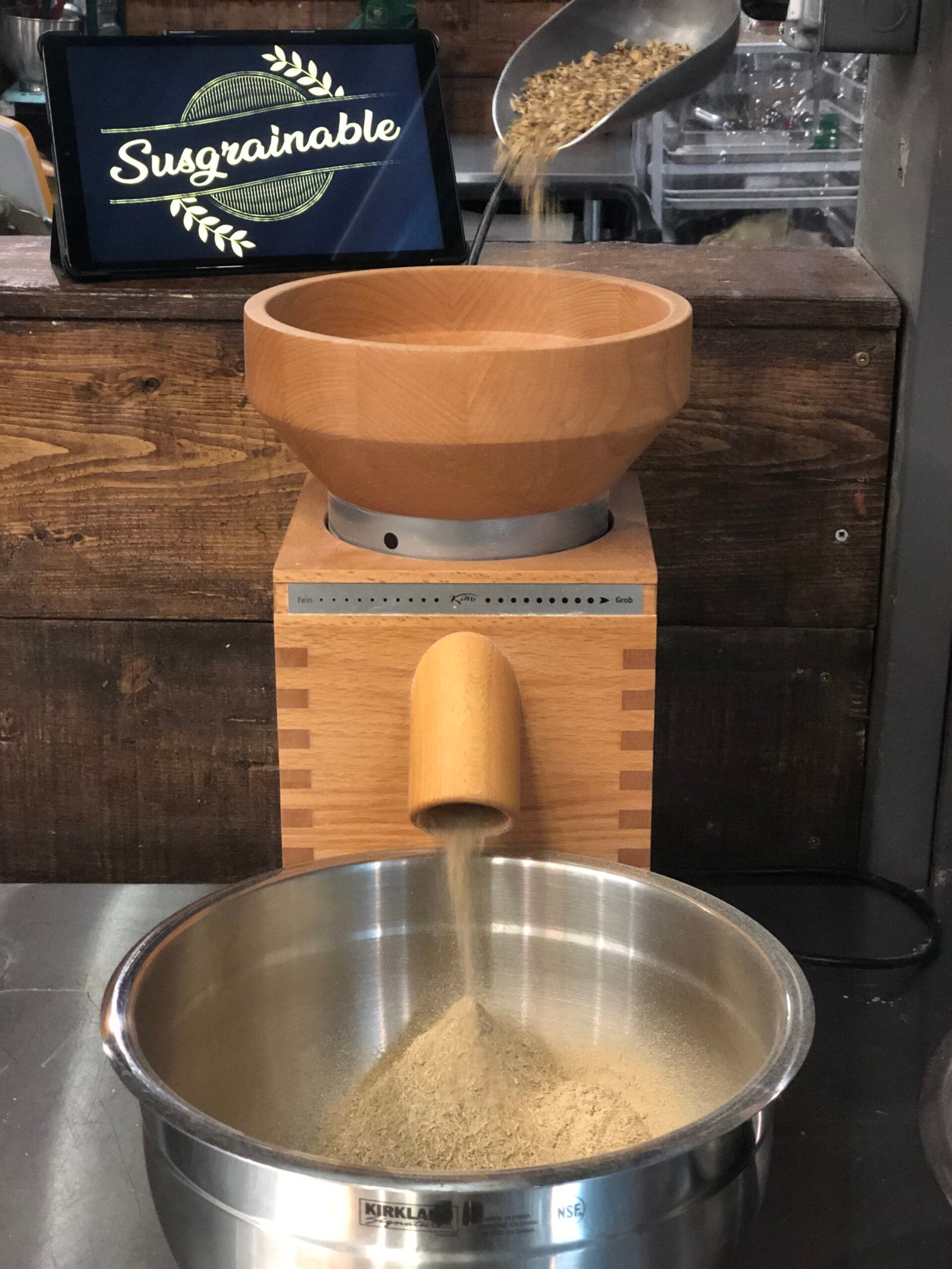 Where are you operating?
MW: While many of our products are available to buy online, we're primarily focused on BC, as we believe a local economy is more circular and more sustainable. A number of local retailers have recently started carrying our products, including Nature's Fare and Fresh St. Market. We're also working with Sobeys through a number of Thrifty Foods and Safeway stores, which are carrying our products as part of their BC local program. 
What is the quality of the food "waste" you receive from breweries?
MW: We specifically work with craft breweries, because they do a great job sourcing high-quality grains, from farmers who care about their products. There are no additives included in their beers, so the spent grain we receive from them is of excellent quality.
How much spent grain have you rescued so far?
MW: Since our inception in 2018, I would guess that we have rescued between 12,000 – 15,000 KG of grain, and half of that has been in the last six months alone,  thanks to the growth in our baking mixes line. In each bag customers buy, they can see the exact volume of rescued grains it contains. We did this so they could join in the fun of measuring their impact too!
What do you think makes Susgrainable unique?
MW: We have a unique mission. Our work is not just focused on reducing food waste, it's also about helping people have healthier diets. Since it's the healthier part of the grain that is being thrown away, we're encouraging people to eat (and drink) the full grain to live healthier while reducing the amount of food waste being generated in this country. 
And we're trying to have fun with it, by appealing to kids as well as adults. We want to encourage the whole family to enjoy baking up our products together, to get engaged in the food system, and learn about where their food comes from. We hear lots of great stories from our customers about how they're enjoying our products at home. One parent told us about how her son went up to his dad while eating one of our cookies saying, "look, I'm having beer too, daddy!" We love when people share these types of stories with us.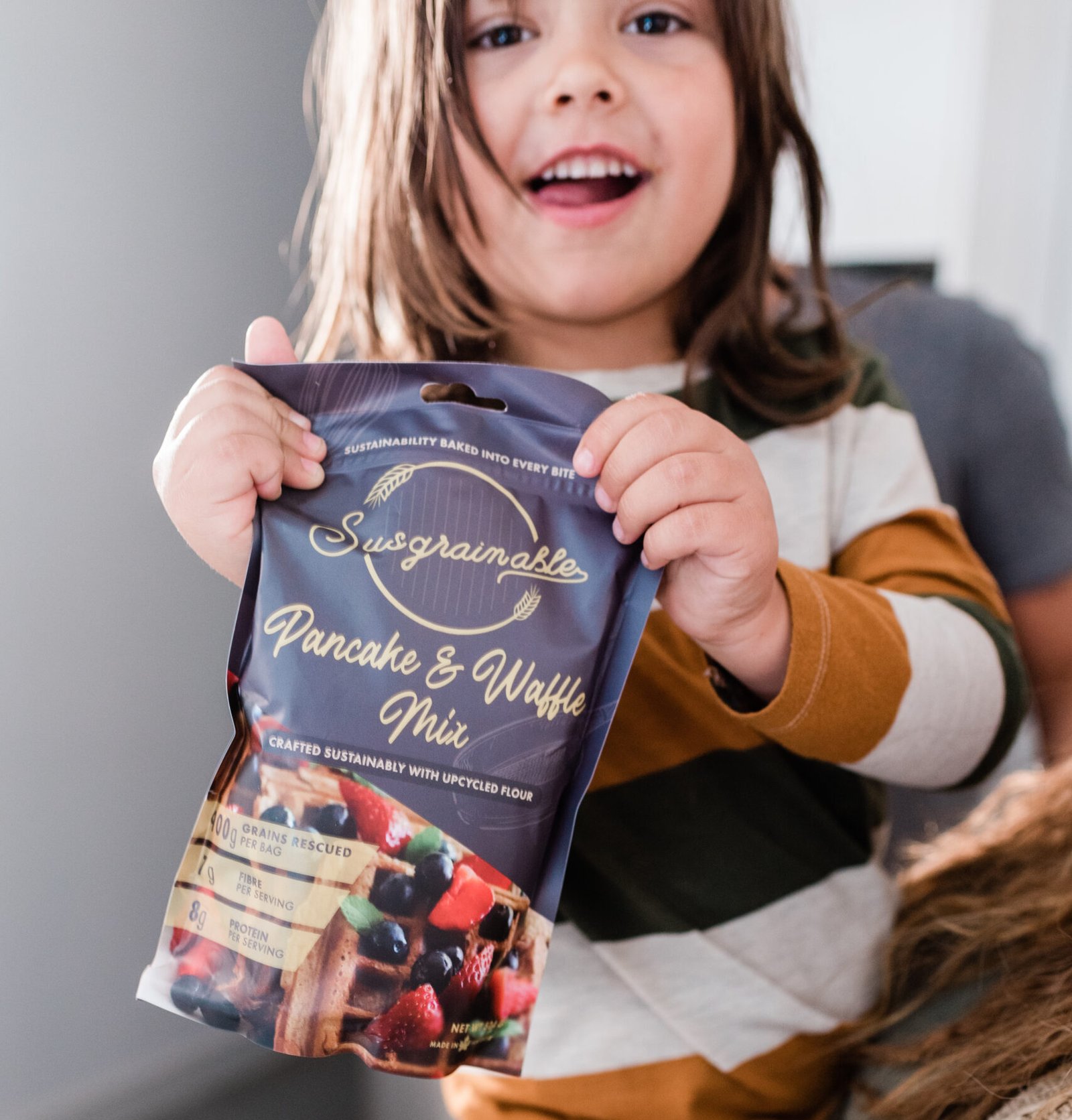 What would you consider Susgrainable's biggest success to date?
MW: We've experienced rapid growth – especially over the last year. We recently landed a Plant Project grant through Earth's Own, which was extremely helpful in fuelling that growth. They are an industry powerhouse that has created amazing plant-based milk, so it was extremely validating to receive this recognition from someone in the field who believes in us.
Getting into grocery stores so rapidly has also been really exciting for us. It's great to see that the grocery industry is buying into the upcycled food movement – they're really keen to learn about it and support it.
What are the biggest challenges you've faced to date?
MW: We are limited in how much grain we can rescue because we don't have our own facility. As we know, real estate in Vancouver is extremely cost-prohibitive, and food-safe spaces are even harder to come by. So the lack of our own facility is the biggest challenge facing us today. We are looking for partnerships, but are driven by finding the right kind of partnership, that aligns with our mission and values. 
We're also up against a food system that I believe to be broken. The big players in today's food industry who are profiting the most from it are resistant to change. That's been challenging too.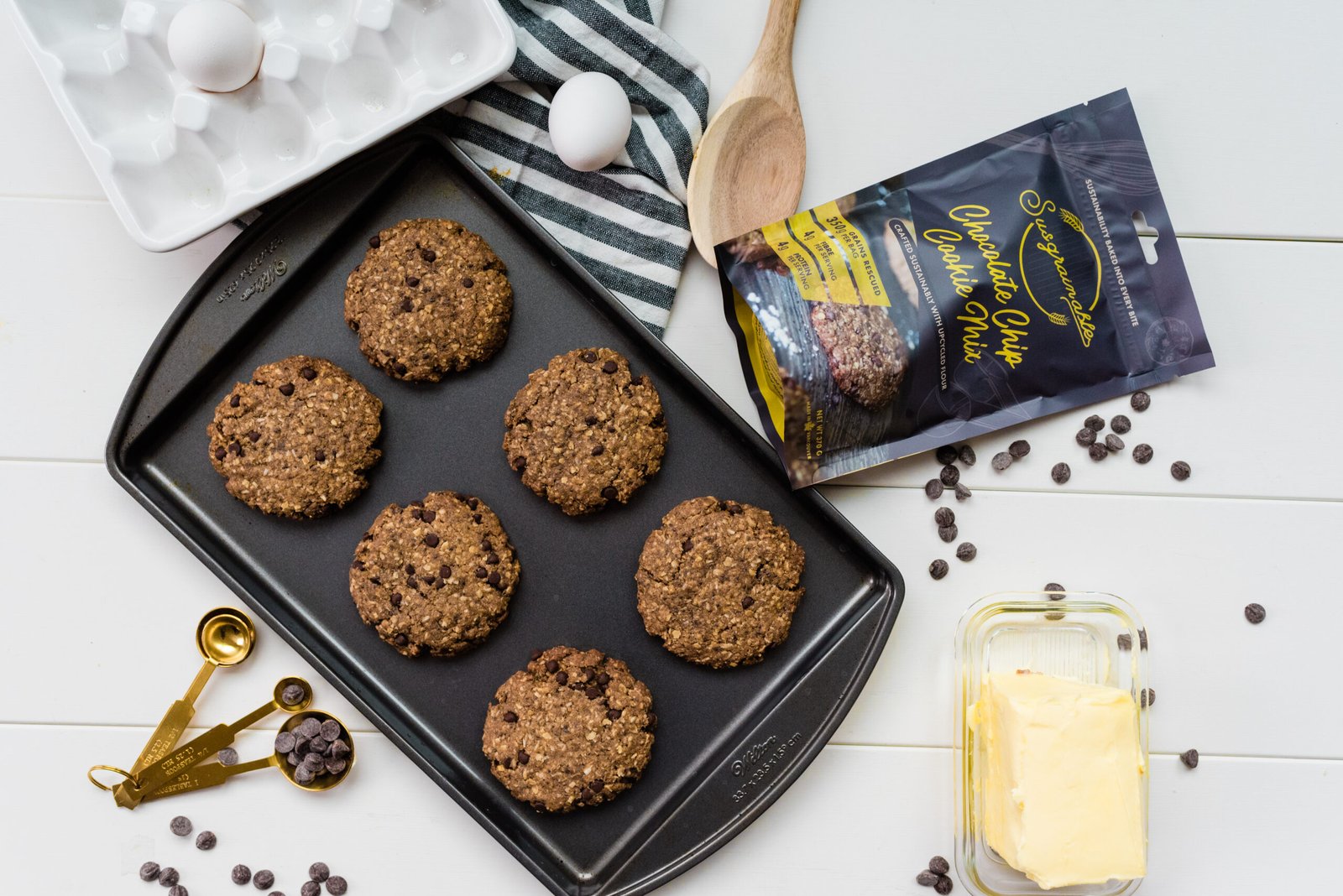 Have you noticed a change in attitude towards food waste and upcycled food since Susgrainable first started?
MW: The pandemic definitely seemed to accelerate awareness of the problem of food waste, especially waste happening in the home. With food insecurity on the rise, the need to use up the resources we have is becoming even more pressing. In terms of what we're doing though, people continue to be shocked by the amount of grain being discarded in the beer-making process and the positive impact of what we're doing with it at Susgrainable. 
Awareness of the upcycling movement is definitely growing, especially among younger people. We've also had great interest from people in grocery stores as well, who want to learn about what we're doing and engage with it. It's fun right now especially as we head into the holidays, as the baking mixes do make the perfect gift. So lots of people are buying one for themselves, and another to gift which really helps to grow awareness!
What advice would you share with someone looking to start their own food upcycling venture?
MW: Be prepared to grind it out! And don't let yourself get too pigeonholed into one thing. Find your strengths. And work with someone, because there's so much work to do, you can divide up the areas of focus between you. You can't do it all yourself!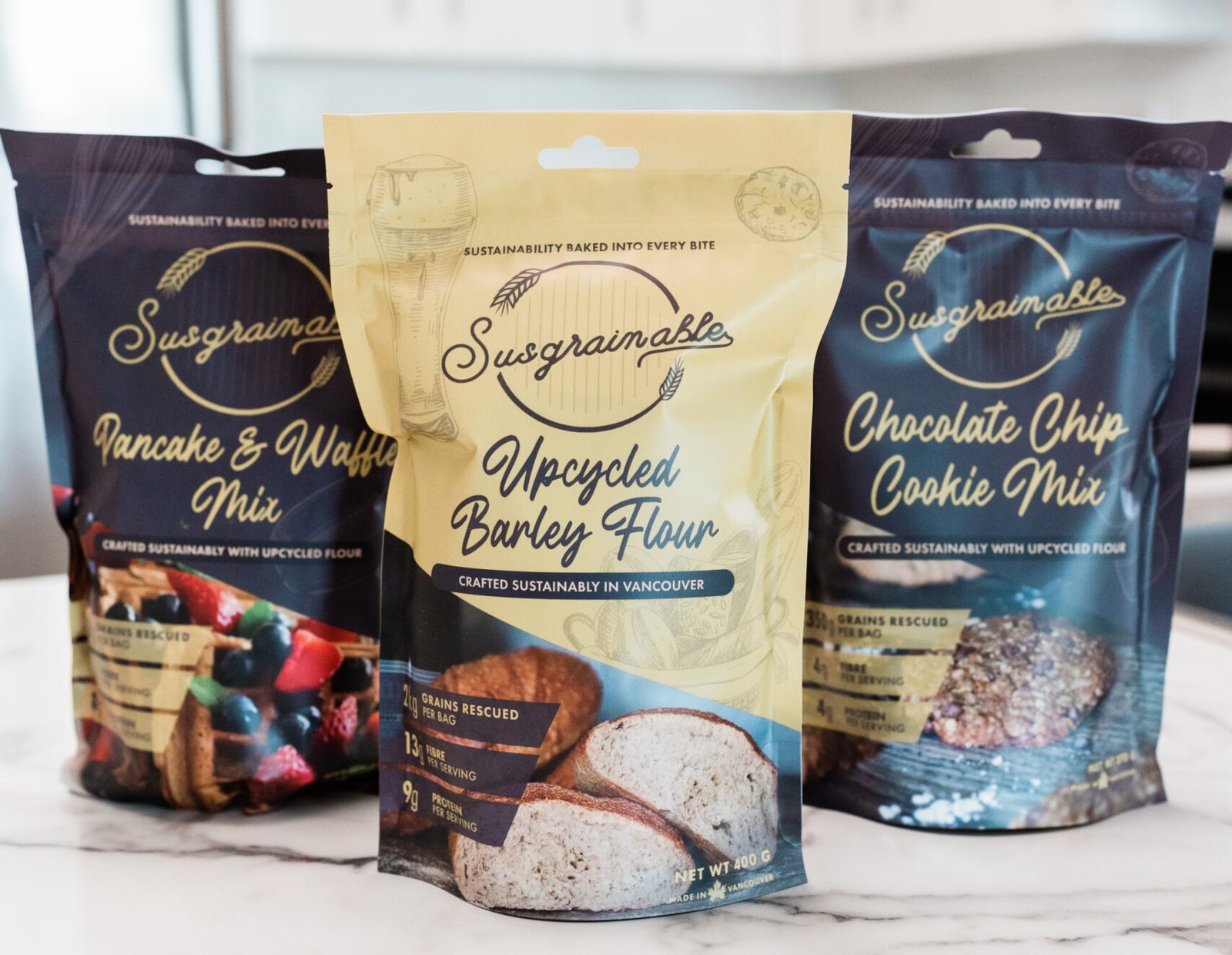 Join the Metro Vancouver Food Recovery Network
Be part of a growing community of organizations that are coming together to help ensure that no food unnecessarily goes to waste.
Join the network
Interviewed by Megan Czerpak, Head of Communications at FoodMesh