04 Oct

Georgia Main's journey to zero waste

As of today, Georgia Main Food Group – the parent company of IGA of BC and Fresh St. Market – has collectively donated the equivalent of a whopping 1 million meals to more than 200 charitable organizations across BC, since their collaboration with FoodMesh began in April 2020. That is 654,900 KG of food that would otherwise have gone to waste streams.

An admirable achievement, especially considering that during that same time, food insecurity rose sharply in Canada due to COVID-19, and the need for a regular, reliable supply of fresh food donations became greater than ever (CityReach Care Society, for example, who is a donation recipient of a Fresh St. Market store, saw a 1000% increase in the demand for their services in 2020).  

"We are all so proud of the difference we can make with this program," explains Tom Truchan, Georgia Main's Director of Project Management and Logistics, and Manager of Sustainability. "It's been a great endeavour to be part of."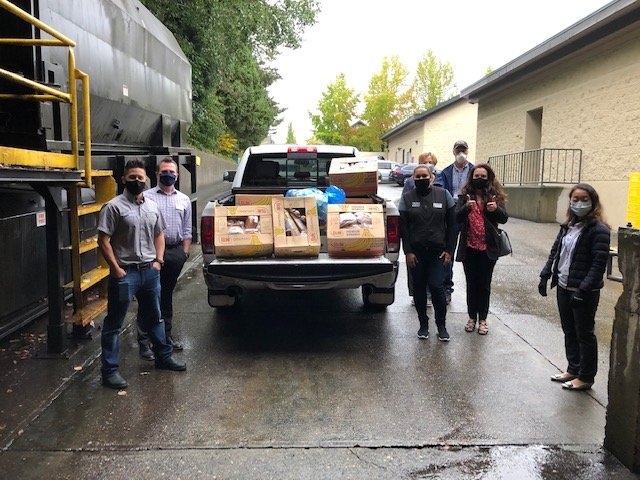 Before Georgia Main launched this enterprise-wide food donation program, its stores were responsible for managing the disposal of their unsold food. As is normal practice in grocery stores, perishable food that was close to its 'best-before' date, had aesthetic imperfections, or issues with its packaging, would be taken off the shelves and either put into organic waste or thrown away. Some of the stores tried to find charities to donate some of their longer-life food to, but with limited success. 
Tom explains: "When I first started looking into this program, I was floored to discover that some of our stores had given up trying to donate their surplus food to charities, because they couldn't get anyone to pick it up." Not because the need wasn't great – we know that it was – but because the charitable organizations the stores knew didn't have the resources to pick up regularly. 
Finding charities to take donations was proving to be a drain on staff time as well. "Because our stores are on the smaller side, our staff didn't have the time to broadcast the availability of food when it is ready for donation, or oversee the logistics of having that food picked up," says Tom. Which is why, despite wanting to do the right thing, many stores gave up.
This partnership meant that a store was not just donating to just one charity, but dozens of charities. A store could never manage that on its own
– Tom Truchan
This is where FoodMesh came in. FoodMesh works with a whole network of charitable organizations, and mobilizes that network to pick up the store's unsalable food, every day of the week. The charities with the infrastructure to do so collect the food, weigh it, sort it and share it with a network of other organizations in the community, so that even those that might not have had the capacity to collect the donations previously, still get the chance to benefit from them. 
Last spring, Georgia Main tested the program with five of their stores over a three-month period. One of the first charitable partners they were matched with was the Immigrant Link Centre Society. "This match proved to be a game-changer for our program." 
As well as offering their own food security programs, Immigrant Link Centre Society is a food runner, meaning they have the infrastructure to collect and sort large volumes of food donations from multiple locations and share it out to an extensive network of other organizations. They started picking up donations from both IGA and Fresh St. Market stores – five in total. 
"This partnership meant that a store was not just donating to just one charity, but dozens of charities. A store could never manage that on its own," Tom says. "Because the stores are getting surplus food picked up every day, we are able to donate all of our perishable food with short shelf lives because it is literally making its way into someone's hands that same day.  Traditionally grocery stores never donated perishable products because it would go bad waiting to be picked up once a week."
And the impact of those donations were incredible. The Immigrant Link Centre Society shares a story from one of the beneficiaries of their Free Food Program: "Since I am in the Free Food Program, during one month, I saved enough money to buy a new pair of shoes for my daughters," she says.
After observing the reach and impact their food donations could have on their local communities, Tom and his colleagues at Georgia Main decided to expand the three-month pilot to an enterprise-wide program. 
"Not only was this program clearly the right thing to do, we also discovered it was saving our staff time. They weren't having to depackage all of the food to put it into organic waste. They simply have to pack it in boxes, ready for collection," Tom explains. Tom and his team observed how pleased staff were to see the impact their donations were having on their local communities, especially when they saw the volume of their combined donations packed together on the receiving dock.
Not only was this program clearly the right thing to do, we also discovered it was saving our staff time
– Tom Truchan
As well as this access to a network of charitable organizations, Tom cites the education that store staff received on 'best-before' dates as pivotal  to the volume of food they were able to share with their communities. "This program completely changed the way our store staff see our unsalable food," he explains. Previously, if a product had reached its 'best-before' date, it was deemed to be inedible, and put into organic waste. Sid, FoodMesh's store trainer, who trains store staff on what is safe to donate and what isn't, explains that these dates are manufacturer guidelines for when food is at its peak quality, a standard that is more concerned with taste and sales than consumer welfare. 
"No longer do we call it a 'best before' day, but rather a 'sell by' or 'freshness' date," says Tom. While these dates don't change when the product leaves the shelves, it does change what happens to it when it's pulled off. Previously, staff were putting it into organic waste bins, and now, they are able to pass it along to people who can use it.
Now that all 30 IGA of BC and Fresh St. Market stores are donating their unsold perishable food, we look forward to celebrating the next million meal donations with them.
Written by Megan Czerpak, Head of Communications at FoodMesh