25 Mar

Join us on April 27 to mark Stop Food Waste Day

To mark Stop Food Waste Day this year, we are hosting a virtual cooking class with local acclaimed chef Theresa Contois of Cedar Feast House Catering, and you're invited!

Theresa will prepare a traditional French dish, using nothing but rescued food.

At this event, you will learn about cooking with rescued food, practical tips for reducing food waste and have the chance to put your questions to the chef.
About the chef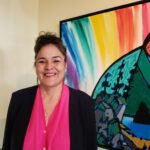 Theresa founded Cedar Feast House Catering back in 2011 to support vulnerable communities in Vancouver's Downtown Eastside. She is an incredibly talented chef and uses food that she rescues from local retailers to prepare meals for people who are in need. She is also an instructor at Vancouver Community College and offers culinary training to Indigenous students.
This event is in support of the Metro Vancouver Regional Food Recovery Network, as part of our work to help build the network of organizations participating in food recovery in the region. While the event is aimed at food businesses and hunger-relief organizations, we encourage anyone with an interest in cooking and/or reducing food waste to attend.